Dental Implants
long-term solution for function & appearance
Benefits of Implants
Dental implants represent the current gold standard to replace missing teeth. Implants represent a predictable, permanent and long-term solution. A dental implant truly looks and feels like a naturaltooth. Implants are constructed from pure titanium and designed to resemble the root of our teeth. Once bonded-integrated to your jawbone, a permanent crown is placed onto the implant to restore your smile and function.
Dental implants are placed by a periodontist, a dental specialist with advanced training in the treatment of gums and the supporting bone. To successfully place a dental implant into the jaw requires a solid foundation of bone. A 3-dimensional CT-scan is required to best evaluate the missing tooth site. These images provide essential information on bone levels, adjacent teeth and vital structures (nerves, sinus, etc.). In certain instances, adjunctive surgery is required to first reconstruct-build-up the bone to create the necessary foundation to support an implant. Once an implant is placed, time is required for fusion of the implant to your jawbone. During this period a temporary prosthetic solution can be fabricated if required.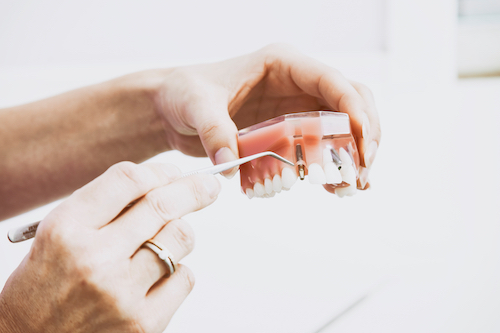 Similar to teeth, dental implants must be maintained. A schedule for periodontal maintenance will be established through communication between Dr. Novack and the specialist.
Interested in Dental Implants?